Want to be your best self this fall? Here's a bit of inspiration from our favourite stars...
Channel EJ Johnson's sense of style
Need a new look? Who better to use as a role model than #RichKids' very own sartorial king? According to EJ, the key to being fabuluxe is to dress for both your body type and personality. Play up your shape, play up your mood and speak through your clothing. 
Master Kylie Jenner's make up skills
Believe it or not, all that contouring and lip filling and… whatever else Kylie does only takes her 20 minutes every morning. Which is totally doable for norms like us. Pick up a brush, and get shading.
Go on a health kick like Khloe Kardashian
Summer may be over, but we're not ready to get our winter chub on just yet! Be like Khloe and spend half an hour in the gym five days a week - how hard can that be? (*Takes a bite of cake*)
Make business your bitch like Bethenny Frankel
If your career's in a rut, now is the time to do something about it and reach for the stars. Whether you start your own business or work your ass off for someone else's, be confident in proving that you've got what it takes to reach the top of the ladder and smash that glass ceiling. 
Adopt Lucy Watson's honesty policy
Made in Chelsea fans know that you can always call on Lucy Watson for a brutal truth. Admittedly, she seemed harsh at first, but we've come to treasure her wise ways over the years. Make a point of being more honest and open in future. It makes life a lot less hassle when you think about it. 
Cook like the Top Chef Masters
Fancy yourself a bit of a Nigella, but don't know the difference between a sweet potato and a squash? Figure it out. Home cooking has never been sexier, and it's time your skills moved past boiling pasta and popping open a jar of pesto. You never know, you might enjoy it.
Dance like a Prancing Elite
Somewhere inside all of us is a Sasha Fierce desperate to break free and J-Sette all over the shop. It's time to let her out. And not knowing the moves is absolutely no excuse.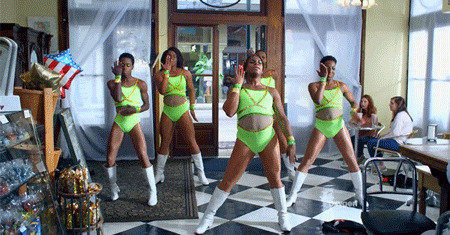 Bring the LOLs like the Funny Girls
There's no feeling in the world quite like making people laugh, so remember to bring the LOLs. Spreading joy results in happiness all round. And there's nothing sexier than a GSOH.
Hit the slopes like the Apres Ski bunnies
It's getting cold AF, so you may as well indulge in a glam ski holiday. There's nothing better than breathing in the mountain air and making the most of fresh pow. And if that weren't enough, there's loads of cheese and wine too. What more could you want?
Get Layla from Work Out New York's abs
Whether you're a fitness freak or an exercise rookie, there's always more work to be done. And for those in need of fitspo, it's time to meet Layla Luciano. Talk about body goals. 
Sing like Christina Milian
OK, so this one might actually require a bit of talent to begin with. But there's really no reason to let your dreams die just because the closest you got to becoming an actual pop star was 15 regrettable minutes of drunken lip-synching fame on Dubsmash.